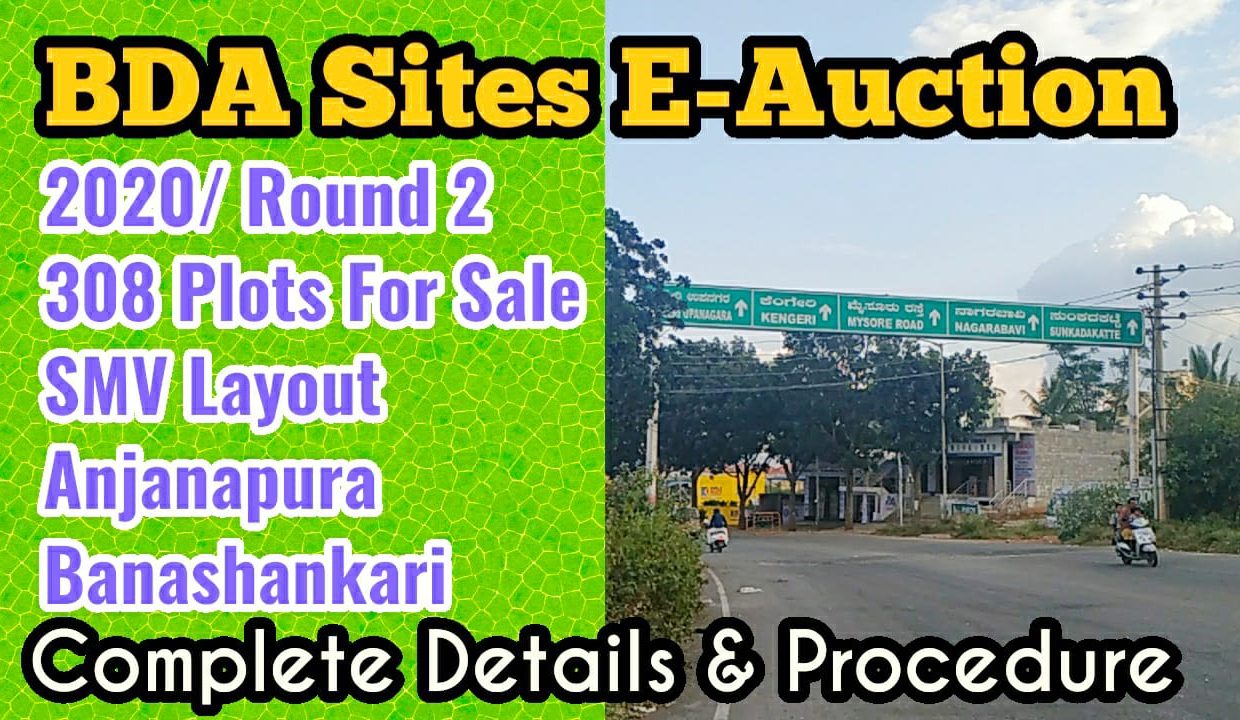 BDA 2nd E-Auction 2020 Residential & Commercial Sites 308 For Sale in Bangalore
BDA Bangalore Development Authority, after 1st round of 202 sites Auction, have now Announced 2nd Round of E-Auction of 308 Premium BDA Sites Residential & Commercial in Banashankari 6th Stage, Anjanapura and Sir.M Vishveswaraiah Layout the E-Auction has started today i.e, 20-07-2020 and closes on 5 Phases.
E-Auction Starts 20-07-2020 11am
The auction will be done in five phases:
Sites with serial number:
1 to 75: auctioned on August 6
76 to 127 on August 7
128 to 191 on August 8
192 to 254 on August 11
255 to 308 on August 12
Bangalore Development Authority 2020: 2nd Round of E-Auction of BDA Sites
**308 Premium Sites For Sale**
Banashankari 6th Stage, Sir M Vishweswaraiah Layout & Anjanapura.
Information Source Credits: BDABengaluru.org
Deccan Herald, Pg 3, 19-07-2020
Maps Credits: Google Maps
Watch Full Video All Details Bidding Procedure Location Maps Shown in the Videos. Please Leave your Comment Below with your opinion & feedback on BDA Sites auction, if you have any questions or information about the Auction Do Share your Knowledge with General Public Below, the Discussion below in Comments Section will Help many People in this Auction and Future Auctions. 😀 In the above Video we have shared Complete information about Sites which are going to be Auctioned, Site Number, Layout Name, Measurements, Base Bidding Price, and Contact information of Concerned Officials of BDA.
Jump to Topic in the Video Direct Link:
The Information was sourced from by Bengaluru Development Authority Website and Newspaper Advertisement in Deccan Herald Page No.3, Dated 19-07-2020, eBangaloreProperty Solutions doesn't claim any responsibility for any errors in this information we have shared the information for helping prospective buyers in buying plots directly from BDA, which are considered the safest Real Estate Investment in Bengaluru.
For Participating in E-Auction Bidding:
https://eproc.karnataka.gov.in
BDA E-Auction Manual:
http://bdabengaluru.org/englishe-auction
DOWNLOAD: E-Auction Google Maps Location
http://bdabengaluru.org/uploads/44031…
Terms and Condition of E-Auction:
http://bdabengaluru.org/uploads/44031…
Video Information Source Credits:
Google Maps
Bangalore Development Authority Website
Deccan Herald, 19th July 2020, Page 3